Start living life on your terms. You're a fantastic renter and you need to be treated like it. Searching for a property, submitting an application and background check, then putting down a big nasty deposit.. it's not fun. We have some exciting news, the days of "I give you money, & you give me shelter with terms", is a thing of the past.
Our renters aren't forgotten forgotten after the term is over, they're valued and rewarded each and every day. Our renters deserve respect and even rewards for on-time rent payments and other activities that make them the great consumers we love to work with.
"Start living life on your terms."
Leasera renters receive seamless and immediately discounted access to all of the great services they've come to love. Depending on the property, renters have access to dog walking, house cleaning, and more, right from their trusted rental portal where their personal information is already secure. What's even better is that these benefits get stronger as time goes on. Renters no longer have to worry about their money going to waste or not building towards the meaningful life they want to live.. it's all right here at Leasera.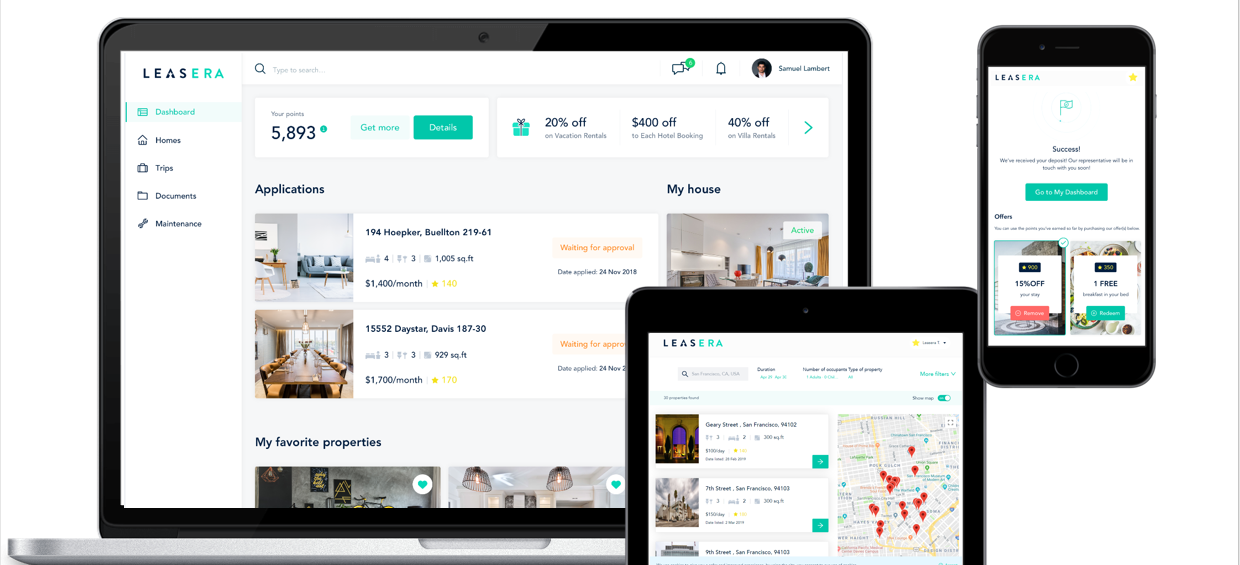 Rental Lifestyle Empowered
Build towards things you love by doing things you're already doing!
What To Expect As A Renter
Make renting easy, fun & valuable
Search, Apply, Pay, Maintain & Build Value
Rental Portal Offers Access to Short Term Properties
Rental Portal Offers Access to Services Like Dog Walking, Cleaning & More
History Builds & Makes You Stronger
Use Points For Discounts, Deposit Buy Back or Rent
Build Towards No Deposits
Build Towards Insurance Benefits
Premium Members Can Subscribe To Fully Flexible Stay
info@leasera.com